Our task as part of Finnish and Estonian society is to ensure comprehensive and reliable mobile and data communication connections. We have an important role in securing operational reliability in society. We comply with universal service obligation for specific areas in Finland which is set by the Finnish Communications Regulatory Authority.
Utilisation of digital services requires a reliable and ever faster nationwide network.
We measure the coverage and availability of our network with a population coverage indicator. In addition to that we track to an independent study 'coverage of the operators' networks in Finland conducted by ECE Ltd.
Our investments in information networks in Finland and in Estonia enable operational reliability and speed improvements of digital services.
Construction of mast, base and broadcasting stations require municipal permits and good cooperation with municipal and private condominiums and landowners.
We utilise joint sites with other industry operators for our base stations. More than half of our base stations are situated in joint sites.
Continuous scanning and analysing of our information networks enable our proactive approach in management of disturbances.
Elisa interarctive disruption map service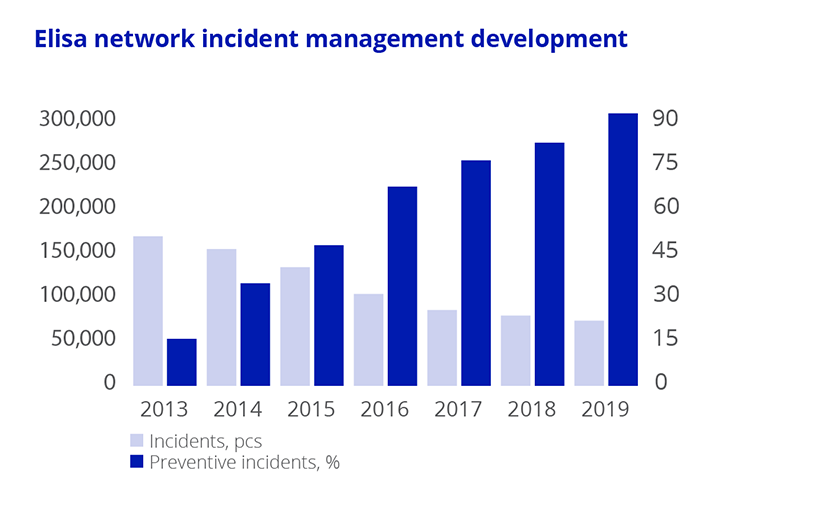 The use of mobile network is safe
There are several finalised and ongoing international academic studies about safety of the radiofrequency radiation generated from base stations and mobile phones. Based on study results independent expert panels have concluded that at present there is no evidence that exposure below current maximum values would cause verified harmful health effects. 5G is not essentially different technology compared to other mobile technologies. 5G construction will follow the regulations of the Finnish Radiation and Nuclear Safety Authority (STUK). The number of 5G base stations will be significantly lower than other mobile base stations for a long time.
In Finland, the safety of the mobile phone networks is monitored by the Radiation and Nuclear Safety Authority (STUK), whose decisions and regulations are based on scientific research findings. In Estonia the authority is The Environmental Board of the Environmental Ministry.
We follow actively related international research and instruction given by authorities. In addition we participate to the cooperation with industry to mitigate the harmful effects of radiofrequency radiation by e.g. careful planning of base station locations. We are expert member on the Electromagnetic Fields (EMF) advisory board.
Reliable information about the subject is available, for example, at the following addresses:
In Finland, the safety of mobile phone networks is monitored by STUK - Radiation and Nuclear Safety Authority, the decisions and regulations of which are based on numerous scientific research findings. Elisa complies with laws and regulations in all its activities.
More information (in Finnish) about the health effects of mobile communications is available at www.mobiilijaterveys.fi