Our corporate responsibility is based on our strategy, values and business model. Societal responsibility, customer satisfaction and well -being of our personnel are key areas in our responsibility development. Moreover the performance in these areas is measured through company scorecards.
From the viewpoint of corporate responsibility, key megatrends that influence the ICT sector and Elisa's business are:
| | |
| --- | --- |
| World of safe con­nec­tions | Trans­fer of fi­nancial power |
| In the fu­tu­re, ever-pre­sent di­gi­ta­li­sa­tion and cy­ber­secu­ri­ty will beco­me neces­sa­ry fea­tu­res for in­di­vi­duals, ser­vices and pro­ducts. | An inc­rea­se in the num­ber of Wes­tern com­pa­nies in de­ve­lo­ping and emer­ging eco­no­mies and the inc­rea­sed sig­ni­ficance of local di­gi­tal in­no­va­tions. |
| Eli­sa's ma­te­rial the­mes: Data secu­ri­ty, re­lia­bi­li­ty and re­liable ser­vices. | Eli­sa's ma­te­rial the­mes: Avai­la­bi­li­ty of ser­vices and res­pon­sible sourcing chain. |
| Ageing po­pu­la­tion | Sus­tai­nable de­ve­lop­ment |
| The pro­por­tion of the el­der­ly (aged over 65) po­pu­la­tion will grow, and they will en­joy a hig­her stan­dard of li­ving. Mo­bi­le health care, re­mo­te mea­su­re­ments and ana­ly­ses will enable ageing people to con­ti­nue li­ving at home. | Scarce na­tu­ral re­sources and cli­ma­te chan­ge will gui­de socie­ties towards uti­li­sing know­led­ge and di­gi­ta­li­sa­tion more in­tel­li­gent­ly. Ser­vices will be pro­vi­ded more ef­fec­ti­ve­ly, vir­tual­ly and th­rough te­lewor­king. |
| Eli­sa's ma­te­rial the­mes: Ease of use and avai­la­bi­li­ty of ser­vices. | Eli­sa's ma­te­rial the­mes: Network ener­gy con­sump­tion, recycling of de­vices, the use of re­newable ener­gy and requi­re­ments po­sed by en­vi­ron­men­tal le­gis­la­tion. |
Material issues
In recognising Elisa's material corporate responsibility, we have taken into account the most important financial, social and environmental effects of our operations, products and services, as well as other significant trends affecting the industry and referenced GRI reporting principles.
To prioritise these aspects of corporate responsibility, we sent an extensive stakeholder questionnaire to all our most important stakeholders in 2015.
The material topics were reassessed in 2016 using results from stakeholders surveys conducted during the year and year 2017 corporate citizen strategy work results. The impacts of the material topics to the business units have been assessed by Elisa's corporate responsibility management team. The results are described below: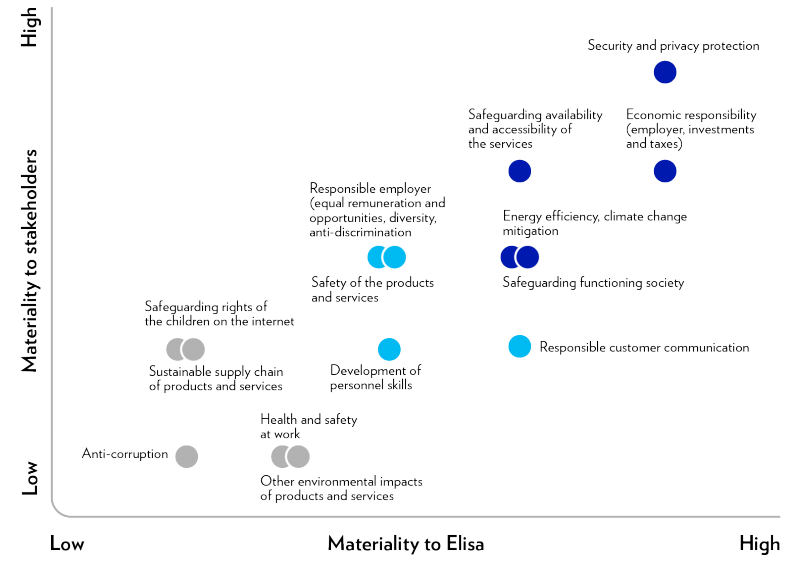 Most material issues and key focus areas for our reporting are:
Data security and privacy protection
Financial responsibility
Availability, safety and accessibility of services
Responsible employer
Energy efficiency and climate change
Ensuring operational reliability in society
Responsible customer communications
Risk management
Risk management is part of Elisa's internal control system. It aims to ensure that risks affecting the company's business are identified, influenced and monitored. The develcompany classifies risks into strategic, operational, hazard and financial risks. Find more information about Elisa's risk management.
Elisa has identified the risks associated with corporate responsibility. These include: Information security and privacy risks, in particular leakage of personal data or data flaws or faults on personal data; climate risks, which in particular have an impact on the reliability of services as extreme climatic conditions increase; the risks associated with possible human resources arrangements, in particular outsourcing measures; possible violations of human rights, particularly in the supply chain and in customer encounters; customer communication and marketing risks; potential risks related to supplier management, such as aberration of internal control and corruption related risks.